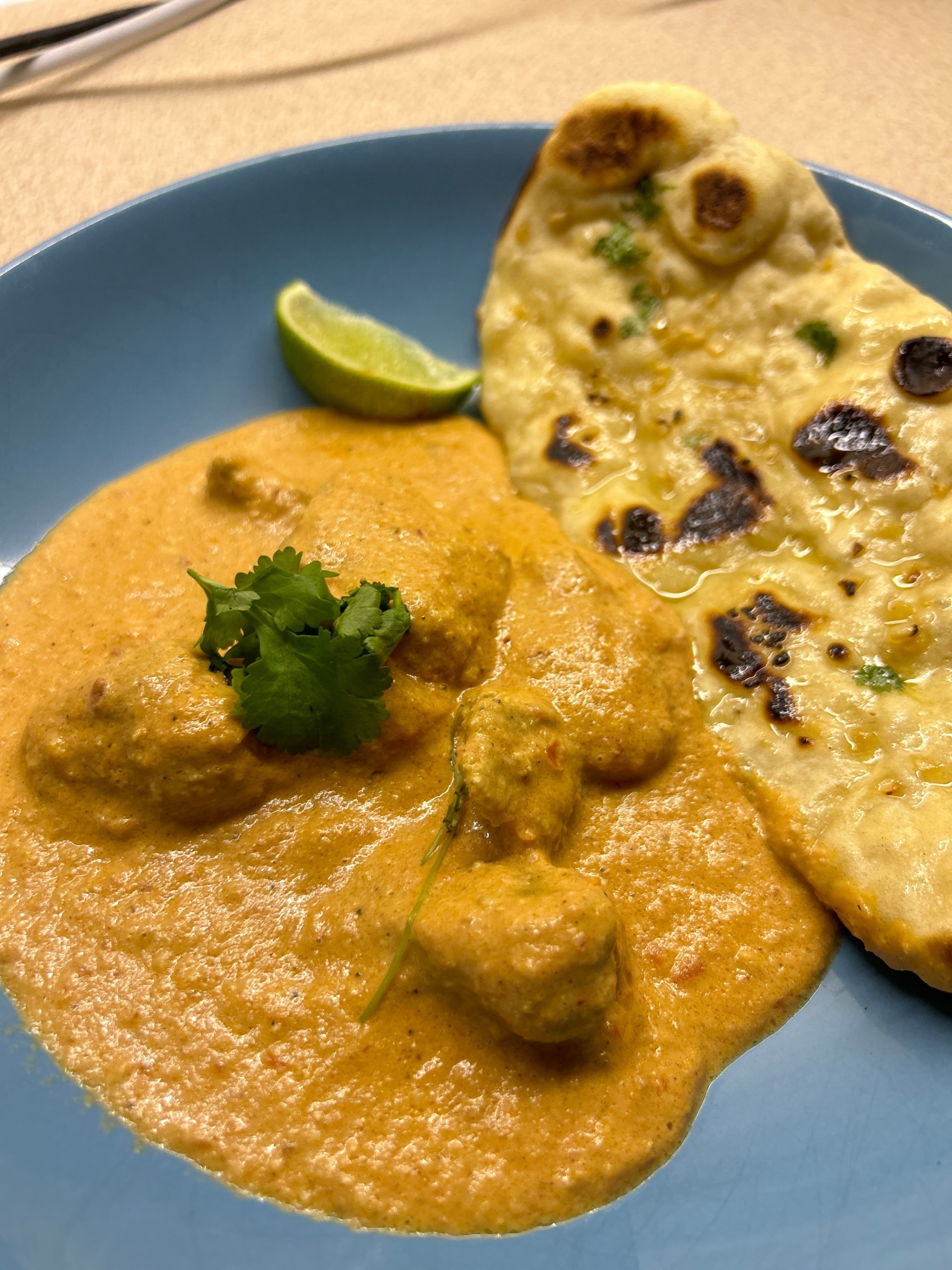 Indulge in the rich and flavourful world of homemade Butter Chicken Masala, prepared with a touch of perfection using Grass Roots Dairy Co Organic Salted Butter. This delightful recipe combines succulent, marinated chicken chunks with a luscious curry sauce, resulting in a symphony of authentic Indian flavours that will tantalise your taste buds.
Ingredients:
500g boneless, skinless organic chicken thighs
For the first marinade:
1 tbsp lemon juice
½ tsp salt
½ tsp cayenne pepper
For the second marinade:
1 tbsp garlic puree
1 tbsp ginger puree
¼ tsp turmeric powder
½ tsp garam masala
200ml organic Greek yoghurt
1 tbsp lemon juice
For the curry sauce
30g cashews
4 large tomatoes
1 cinnamon stick
3 cardamom pods
1 tsp ginger puree
2 tsp garlic puree
1 tsp ground cumin
1 green chilli, diced and deseeded
50g Grass Roots Dairy Co Organic Salted Butter
½ tsp sugar
1 tsp garam masala
200ml water
100ml double cream
Coriander leaves for garnishing
Method:
Cut the chicken thighs into medium chunks and put into a mixing bowl.
Pour the lemon juice, salt and cayenne pepper onto the chicken and mix. Place into the fridge for half an hour.
When ready, add the garlic puree, ginger puree, turmeric, garam masala, yoghurt and lemon juice to the chicken and mix. Cover the bowl and place in the fridge to chill for 6-24 hours.
Remove the chicken from the fridge 10 minutes before cooking and pre-heat the grill.
Place the chicken on a wire rack and grill for about 20 minutes, turning as needed, until the chicken is browned. Check that the chicken is fully cooked. Set aside.
To make the curry sauce, first add your tomatoes and cashews and blend them using a food processor.
Into a frying pan, melt the butter. Once melted, add the cinnamon, cardamom, ginger, garlic and cumin and cook for 2 minutes.
Add the chilli to the pan and cook for a further minute.
Add the tomato mixture to the pan, the sugar, and the garam masala. Simmer on a medium heat for 5 minutes.
Add 200ml of water. Turn down the heat a little and simmer for 10 minutes.
Add the cream to the mixture and mix. Season with salt, chilli powder and garam masala to taste.
Add the chicken to the curry and simmer for another 5 minutes.
Serve with naans and rice. Garnish the curry with sliced chillies and coriander leaves.